Newborn baby clothes shopping tips can help save you money, reduce frustration and keep your baby safe.
Nearly all baby stores will place baby clothes within close proximity to other items like diapers, strollers or car seats. The reason is the store is hoping you impulsively buy baby clothes because they are cute and relatively inexpensive when compared to those higher priced baby items. Realizing that this is a tactic used by baby stores will help you from overspending on baby clothing that the baby will grow out of fast.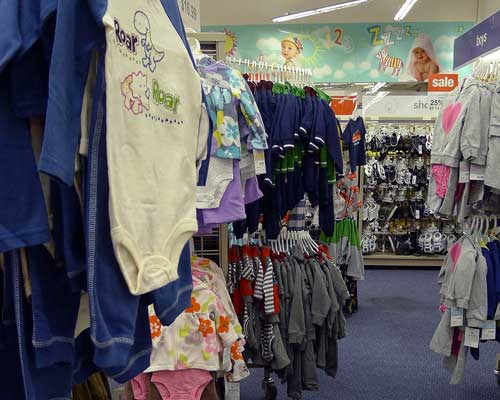 Start by buying only the amount of baby clothes you will use keeping in mind that a 7 pound baby at birth will weigh 14 pounds in a few months and any newborn baby clothes will no longer fit. A baby will more than double his or her birth weight by 6 months and triple his or her birth weight by one year. Babies gain a 1/2 to 1 ounce everyday.
Baby clothes come in 0-3 month size, 3-6 month size and 6-9 month size. Focus on buying more of the 3-6 month and 6-9 month size clothing as the baby will outgrow the 0-3 month size clothing in a very short amount of time. You may only need 5-8 different baby clothes for the first few months after the baby is born. However, stock up on the 3-6 and 6-9 month clothing so you will not have to spend time shopping for baby clothes when you may be extremely busy and tired during this very exhausting mothering time.
The difference between baby boy and baby girl clothing from a color and design standpoint is pretty obvious. Gender neutral colors like yellow and green in some outfits can work for both boys and girls. It is often a notable fashion mistake to dress your baby boy in a pink outfit with princesses or unicorns on it or to dress your baby girl in blue with pictures of trains or sports. Knowing the gender of your baby ahead of time can help you plan and buy gender appropriate clothing while your still pregnant.
One thing to keep in mind when selecting baby clothes is the climate where you live. The weather and temperature during the seasons can have a big impact on the clothing choices you make for your baby. Consider the season in which baby turns 3-6 months and 6-9 months in order to help you purchase the right outfits for the season. Seasons in many areas can have significant temperature ranges and unusually hot or cold days so it is often a good idea to have an outfit that may seem out of season but could come in hand in a pinch if the weather is warmer or colder than expected.
Baby clothes made of cotton and other natural fabrics that use snap buttons will be the easiest to take on and off of a newborn baby. With a dozen or so diaper changes in a day it will be a serious waste of your time if you have to spend extra time dealing with fancy clothing that was not designed to be practical. Snap buttons are considered better than zippers as there is less chance for baby's skin to accidentally get stuck in a zipper that can cause a very painful situation. Being able to easily change your baby at a restaurant, mall, or whenever you are on-the-go will make life a little less stressful.
Figuring out the correct size clothes for your baby can be a challenge as many clothing manufacturers have variations in sizing. Start by going to the part of the store that is appropriate age for your baby as each store is usually sectioned off by different ages of babies. Most stores will have spots for infant sizes, toddler sizes, age 4-7 and 8 plus years of age. 2T, 3T and 4T are toddler sizes. Sizes 4-7 are made to fit preschool, kindergarten and the first year or two of elementary school. These sizing distinctions are general as some children will be bigger and some will be smaller so they may end up needing a larger or a smaller size for their age. Generally height is a better indication of a baby's size than is weight.
Pay attention to size charts that you can often find on the tags attached to the baby clothes or sometimes displayed on the wall at the store. These charts will help you figure out how height, weight, waist size and chest size can impact your size buying needs. Understand that sizing variations exist between clothing manufacturers so a 2T may vary by a few inches in height from one brand to the next. If in between sizes, usually it is best to purchase the bigger size which allows the baby time to grow into the outfit.
In addition to the sizing number and height, many manufacturers also will designate shirts as small, medium, large and extra large. Usually it is better to go by the sizing number and height as that will be more likely to help you find the right size outfit for your baby. If clothes shopping as a gift then it is best to find out from the mom or dad the child's height and clothing size number. Consider the benefits of buying clothing with adjustable straps, pants with cuffs and elastic waists as the clothing will be usable for a longer period of time.
Buying outfits that have a matching top and bottom look real nice but are often not practical. Often a baby will outgrow one piece before the other so it is often better to purchase separates instead of complete outfits. Mix and matching separates will help the child get more use out of his clothing and with more variation in styles.
Something that is often not considered when clothes shopping is safety. Some children have been seriously injured or killed because of the clothing they are wearing. When a child reaches about nine months old they can often start moving around independent of their mom or dad. Most unsafe clothing is a result of it being loose fitting or non-flame-resistant especially sleepwear. Another hazard to be mindful of are drawstrings that can get stuck in car doors, play equipment or elevators and strangle children. Avoid clothing with drawstrings or small parts and choose clothing that is not made of lead and is made of flame resistant fabrics. Many warnings and safety tips have been published by the Consumer Product Safety Commission. One warning is to be mindful that small decorations or buttons can possibly be removed by a baby and then swallowed causing a very dangerous choking situation. Read the label on clothes so you launder it appropriately which will keep it from losing its flame resistance. Labels also include information on the garment in case of a safety recall by the manufacturer. When visiting a playground or using baby swings make sure there are no strings or other parts of an outfit that can get caught in the equipment.