There is a lot to know and understand about the car seat. Choosing between the many different car seats and the many features can be a challenge, especially when it is one of the more expensive purchases parents make for their baby.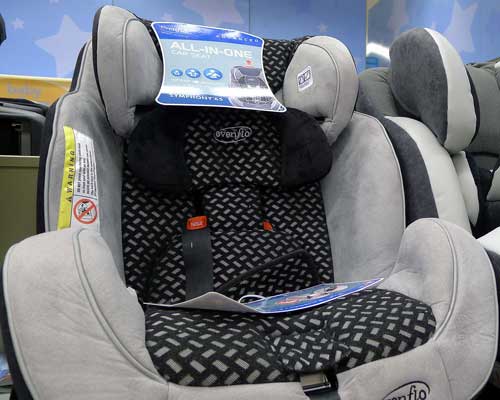 Car seat safety begins with understanding the differences between car seats designed for different size babies and then the all important step of how to properly use the car seat. Infant car seats are the first car seat you will use when you have a newborn up to about 20 pounds. These infant car seats are made to protect during the first year of a baby's life until they outgrow the infant car seat and then you will need to buy a toddler car seat. Different infant car seat models protect babies up until they weigh a certain amount, usually about 20 pounds or 10 kilograms, but you must read the guidelines that come with model you purchase to know when your baby has outgrown it and will need to switch to a toddler car seat. Placing the car seat facing backwards in the center position of the rear seat has been shown in studies to be the safest position for a baby during an accident. The child should remain in the rear facing position for the first year – longer if possible – and until they weigh at least 20 pounds. Do not even consider facing a baby forward in a car seat until they have reached at least 1 year old and he or she weighs at least 20 pounds as the child's neck is not fully developed at this age and will be unable to support them from the whiplash that occurs during a collision. Manufacturer's recommend keeping the car seat facing the rear of the vehicle for as long as the car seat fits and the child fits, but you should pay close attention to the information on weight and height recommendations that come with that model car seat. Infant car seats are designed in two pieces. After the base is installed in the car you can leave it there because the upper section that holds the baby can detach from the base and be used as a carrier. The carrier locks into the base when used in the car but parents can easily detach the carrier from the base when you have reached your destination.
[div class="notice" class2="typo-icon"]Installing a car seat correctly is very important. Statistics show that a majority of car seats are installed incorrectly. Follow the manufacturer's instructions and it is recommended to have a professional inspect the car seat installation to make sure the baby is properly secured. Many new models of cars allow the car seat to be installed with the Latch System that anchors the car seat to the frame of the car.[/div]
A sort of unknown danger with car seats exists and can be easily avoided. The danger is keeping your baby in a car seat for to many hours daily. Restricting the amount of movement for a baby for hours each day can be unhealthy as babies need the freedom to move around in order to improve motor skills and coordination. The child safety seat for infants doubles as a carrier so it can become very easy for a parent or caregiver to leave the little one in the safe car seat while in the house, but realize you should not overuse the car seat indoors. If you use child care consider talking to those in charge of your baby girl-boy to make sure they understand not to overuse the car seat indoors.
[div class="notice" class2="typo-icon"]Never put a car seat on a counter or table where the baby could accidentally get knocked off and fall. This is a preventable accident so understand that a newborn can be seriously injured falling from a counter top or table while in a car seat. This is one of the most common accidents to babies and it is totally preventable, just do not ever put the baby on top of any table, bed, counter top, chair, car hood or on the stairs where the baby could fall off.[/div]
Some car seat manufacturers have designed what is known as a convertible car seat, which are generally large and not meant to be used as baby carriers. The convertible car safety seats can be used from the day a baby is born up to a certain weight such as 45 pounds. These convertible car seats allow parents to buy a single car seat instead of both an infant car seat and toddler car seat.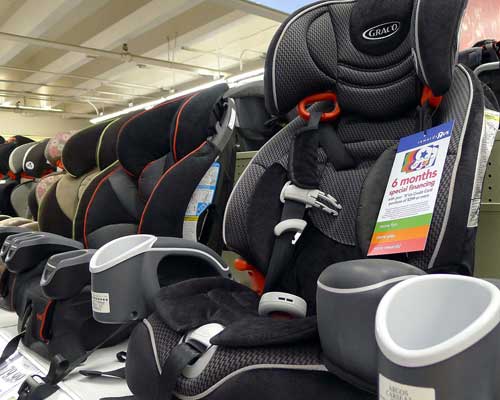 The ability to adjust the car seat from rear facing to front facing allows the car seat to be useful as a child gets older during the first couple of years. Though each convertible car seat will have slightly different manufacturer height and weight recommendations for when you should turn the car seat forward, it is recommended to keep the child facing rearward for as long as possible in accordance with the manufacturer instructions. Guidelines suggest that you should never face a baby forward in a car seat before his or her first birthday, and depending on the size of the child it is normal to wait until around the age of two. Also, children below 25 pounds are not ready to face forward, and many manufacturers convertible car seats suggest keeping baby facing the rear until a child is 35 pounds. Many convertible car seats use the Latch System or the seat belt system to install and it is very important to make sure you follow the installation instructions closely. When securing a child to the convertible car seat, it is imperative that you follow the directions and understand the difference between securing a newborn baby and a toddler in the convertible car seat. With many different things you will invariably own while your baby grows up it is nice to know that some manufacturers have produced baby products that are convertible which keeps them usable for a longer period of time and provides more value to the consumer.
Another type of car seat is the forward facing type that is unable to be installed where the baby would be facing the rear of the car. Forward facing only car safety seats are meant for children 20 to 45 pounds. Often parents will use an infant car seat until the baby reaches at least one year old and weighs at least 20 pounds and then switch to one of the car seats that is designed to only have the baby face forward. Correct installation and the proper technique for securing your child can be accomplished by following the manufacturers' instructions. Children are to use a forward facing car seat with the five point harness up until the age of four when they can then switch to a booster seat. Some manufacturers offer a convertible car seat that switches from forward-facing into a booster seat.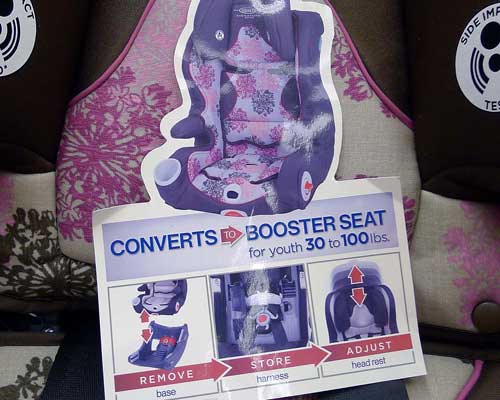 Certain cars, trucks and vans have built-in car seats. These car seats are for children over the age of one and you should read the instructions carefully in the car's owner manual to correctly harness your child into the car seat. As many cars are designed with families in mind, expect car makers to continue improving safety and producing vehicles that make using safety seats easier. One thing that is common in cars sold over the past decade is the Latch System which makes installing the car seat easier, more secure, and safer. These kinds of improvements to car seats can help make the tough job of transporting a baby around town a little easier. Again, always remember to make sure the car seat is properly installed and that you regularly check to make sure it is properly secured to the vehicle..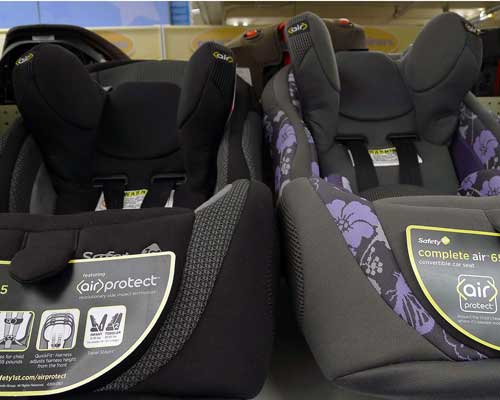 Booster seats are for children around the age of four years old. Since all children grow at different rates you will know it is time to switch to a booster seat when your child has outgrown his forward facing car seat – most manufacturers recommend the child is too big for a forward facing car seat when he or she is 40 or 45 pounds depending on the toddler car seat model you own. Since motor vehicle safety belts are not designed for small children the safety belt cannot adequately fasten a small child. The idea of the booster seat is to boost the child and secure the child providing the necessary protection in the event of a motor vehicle accident. Usually at first the child will need a booster seat with a back and then a booster seat that is backless. Many booster seats allow for the removal of the back so you will only have to buy one booster seat for your child. The need for a back on the booster seat may also depend on the car seat itself as when a car seat is short a high-back booster seat is needed. Tall car seat backs that can support the child's head allow for the use of backless booster seats. Height-adjustable head support and armrests make booster seats comfortable and safe. Many states like California have passed state laws requiring children up to the age of 8 to use a booster seat when riding in a motor vehicle. Each state may have differing laws including some that will require children up to 80 pounds to use a car seat. It is important to research the laws in your state or country. For instance in the state of California: children under the age of eight must be secured in a car seat or booster seat in the back seat, however, children under the age of eight who are four-foot and nine-inches or taller may be secured by a safety belt in the back seat.
There are several other types of booster seats and car seats that you should know about.There are combination safety seats which converts between a forward-facing car seat and a booster seat when the child weighs more than 40 pounds. In the combination seat the baby is secured with a five point harness system and then with the safety belt when the conversion is made to the booster seat. It is important to have shoulder straps in your car when using booster seats and if your vehicle only has a lap belt then you may want to have your car's dealer install a safety belt with a shoulder strap.
Eventually when a child is old enough he or she will no longer need a booster seat and will be able to use the safety belt by itself. Most children when they are between 4 foot 6 inches tall and five foot tall will be able to start using the safety belt without a booster seat. The time when your child will be big enough to use only a safety belt is when he or she has the shoulder strap goes across the chest, the lap belt is across the waist resting on the thigh, and the child is able to put his or her back against the seat and legs comfortably over the edge with good posture. Fastening the safety belt properly is very important noting that the shoulder strap needs to be across the chest and never put behind the arm or behind the back. Each child should have their own seat and should never share a safety belt.
There are many aspects of motor vehicle safety that go beyond just using a car seat so continue learning more about child safety by learning about the dangers of air bags and how else to keep your baby safe.