For the safety of the child keeping the car seat, stroller, playard, highchair, swing, walkers and other equipment for baby clean is very important. Bacteria and germs can build up quickly from pieces of food and human contact and therefore the equipment should be wiped down regularly. Follow these cleaning guidelines and remember to use child safe cleaners or dish soap.
How to Clean Car Seats
Keeping car seats clean is an important part of keeping your baby safe. For the buckle you should use a damp cloth or sponge while the car seat body can be cleaned with mild soap and water and towel dry. It is important that you use a mild cleaner such as dish soap and never use harsh cleaners or bleach. For the harness that secures the child in the car seat you can use soap and water on the straps. Keeping the car seat, harness straps and buckle clean will prove valuable in reducing germs around the baby helping him or her stay healthy.
How to Clean Strollers
Cleaning the stroller will become a regular task especially if you are like most parents and let your child eat in his stroller. For cleaning after eating consider a vacuum to pick up those stray Cheerios. Wiping down the stroller seat with a wet cloth will do wonders for keeping your stroller looking like new. Use dish soap with the water to clean with and never use strong household cleaners like bleach. Strollers wheels need to be inflated properly so check occasionally that the stroller wheels have the right amount of air especially on baby joggers. The frame of the stroller, seating area, rain cover, umbrella, pockets can all be cleaned using dish soap and water wiped down using a damp towel.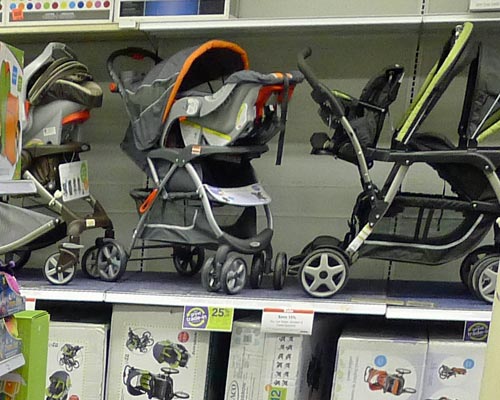 How to Clean Playards
Playards are very popular for parents during a good stretch of those first couple years and so keeping the playard clean is important to keep out germs. The playard is made up of plastic, vinyl and metal all of which can be cleaned using dish soap and water. Wipe down the mattress, all the mesh sides, and the metal frame to have a clean playard that is safe and secure for your child. It is very important that you do not use harsh household cleaning products and never use bleach to clean baby equipment like playards. The Pack n' Play are easily transportable and you may want to thoroughly wipe down the system before placing it into the carry bag and taking it with you. The carry bag of a Pack n' Play style playard can be washed in cold water delicate cycle and then dripped dry hung up. The sheets that cover the floor of the playard suck as the Pack n' Play travel style can be washed in a washing machine. Always read the manufacturers' washing instructions for machine washing the carry bag and sheets.
How to Clean Highchairs
Cleaning the highchair is something you will find yourself doing after every feeding while your child learns to master the art of eating without making a mess. The highchair is made up of plastic or metal frames and cloth seat pads. The entire highchair can be cleaned by wiping the frame and seat pads with dish soap and water. While you would wipe down a vinyl seat pad, some model highchairs will allow you to machine wash your cloth seat pad using cold water on the delicate cycle. It is important to note that you should never use bleach to clean any part of your child's highchair and never use household cleaning products with harsh chemicals.
How to Clean Swings, Walkers, Bouncers and Soothers
Many parents purchase swings, soothers, walkers, bouncers and play stations for their children. These items are popular gifts and you may end up with one when you were not expecting one but whatever the case may be, keeping your baby equipment clean is important for protecting your baby. All baby equipment like swings and walkers have frames and seating pads that can be cleaned using soap and water by wiping them down with a towel. Some seat pads may be removable and machine washable. Dish soap and water are all you need and never use harsh household cleaners or bleach when cleaning your child's equipment. Some baby equipment will come with a cover for transporting and storage, these covers are often machine washable in cold water and dripped dry. Some manufacturers use cloth infant supports that may be machine washable. The important thing is to read the care instructions that come with the baby product you own.