When you are a mother for the first time you will be faced with many challenges and figuring out which baby products you need and which baby products you do not need is one of those challenges. Starting with a newborn baby and well into the toddler years your baby healthy development can be significantly aided by baby products. Look at this list of baby product recommendations that you can use to help you to best care for your child allowing you to spend more time enjoying the wonders of watching your baby grow up.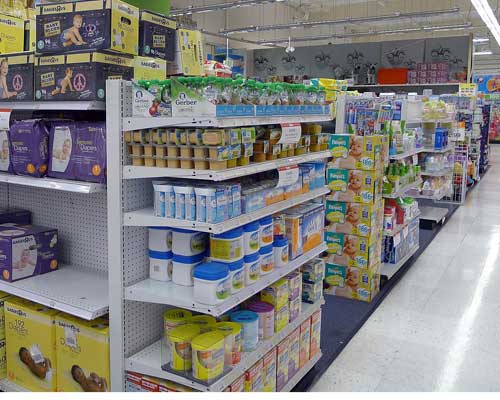 Baby Bottles
Choosing the bottles to feed your newborn baby with seems like an easy decision, until you look in the store and see the numerous varieties and styles that exist for baby bottles. Even for moms who choose to breastfeed their babies, it is always a good idea to have a baby bottle on hand. Be careful when choosing a plastic bottle because some plastic baby bottles are made with the chemical BPA (bisphenol A) that studies have shown to be a health risk. A good idea is to choose a manufacturer that has a good reputation and has been around for awhile as the design, age appropriateness, and anti-leaking bottles will be best developed by a company who has spent time and effort designing baby bottles. The brands Evanflo, Playskool, Born Free, Avent and Thinkbaby sell BPA free bottles. Safety tip for baby bottles is that they should never be placed in a microwave to heat up the contents, this is because the plastic will melt and dangerous chemicals will end up in the baby formula.
Baby Monitors
Nowadays almost all mothers realize that having an infant monitor are enormously helpful. When cooking or cleaning in another room in your house it is invaluable to be able to see and hear your baby. Baby monitors come in the audio only and audio-visual varieties. Two way transmission is a feature you will find on many baby monitors so you can hear and talk to your baby through the device. Some video monitors have options that include the ability to record your child and even to set-up a secure internet connection so the grandparents can also watch the little one. Safety 1st, Graco and Fisher Price offer a variety of different quality baby monitors.
Toys
Interacting with baby toys is a great way for your child to develop their senses and coordination. Be careful when selecting baby toys and inspect all baby toys your child receives as gifts. Safety things to watch for are small parts that can break off and create a choking hazard.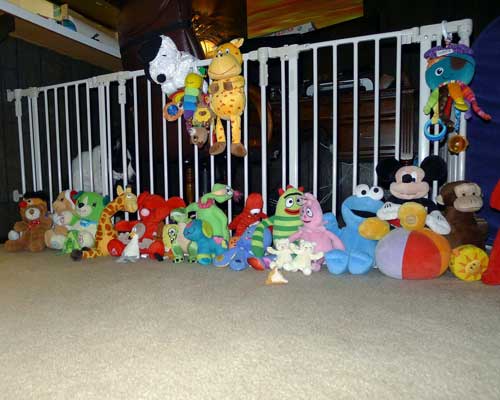 Laundry Detergent
Often overlooked by parents are normal things in the home that can be toxic. The good news is these dangers are easily preventable by using alternative baby products. One such thing is laundry detergent. The skin of newborn and infant children are extremely sensitive and reactions to harsh ingredients in laundry detergent will cause all sorts of problems. Choose hypoallergenic laundry detergents that are free of harmful chemicals, free of dyes and perfumes, and designed for babies. Use the hypoallergenic laundry detergent for the baby's clothes, blankets and bibs; store the detergent in a safe spot.
Personal Care Products
You will need to buy quite a few different types of products designed to keep the baby clean and well groomed. These types of products include lotion, soap, shampoo, baby oil, nail clippers and hair brush. The sensitive skin of your baby makes choosing these type of products an important task so focus on bath soaps and shampoos designed for babies which are mild and gentle on sensitive skin. Hair brushes, nail clippers and grooming products should be designed for babies so look for a notable manufacturer that has a reputation for producing safe baby products. A company like Johnson and Johnson has a variety of shampoos, lotions, powders and oils for baby and a reputation as one of the leaders in developing these products.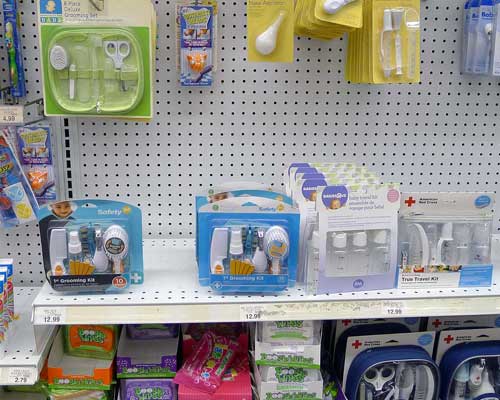 Oral Hygiene
Your baby may start teething around six months old and will need to take care of his or her new baby teeth with proper oral hygiene. Teaching your child to brush is an important early developmental skill. Using baby safe toothpaste and toothbrushes is important.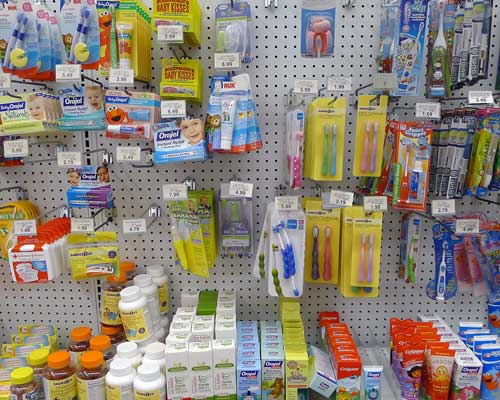 Medicines
You should always consult with your pediatrician before giving your baby any kind of over-the-counter baby medicine. Keeping all medicines in a locked cabinet far out of the reach of child is also something you must do. Having a good quality baby thermometer on hand is something you should have before your newborn comes home from the hospital.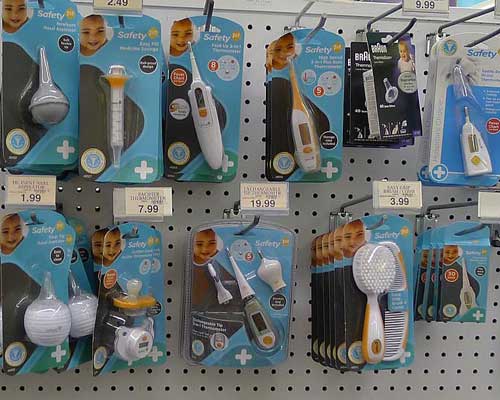 Baby Food and Infant Formula
Selecting what food your baby should eat is a bigger task than some most moms anticipate. The variety of options and your child's own desires make feeding the baby a challenge sometimes. Discuss with your pediatrician when you should begin feeding your baby different types of food and what types of food your baby needs as he grows. Look for nutritious, good tasting food and consider buying organic vegetables and fruits which are available in baby food jars. Most experts and organizations recommend breastfeeding your infant for the many health benefits the mother can pass on through her milk to the baby. Alternatively, infant formulas have been well developed to be very close to matching the health benefits of breastfed milk and may be a suitable option for some moms.
Baby Furniture
When it comes to baby furniture products the features on comparable items can make choosing the one you need more difficult than you would expect. Playards, cribs, highchairs, baby changing stations, dressers, rocking chairs and activity centers come in a variety of styles. Baby furniture should be comfortable, colorful, and most importantly safe. Most items will require time and effort to properly assemble. A newborn's mom will benefit greatly with a bassinet by avoiding having to make dozens of trips to the crib in the middle of the night. Many cribs and portable crib playards come with a bassinet which is nice since a bassinet will be one of those items you will only use for a short period of time.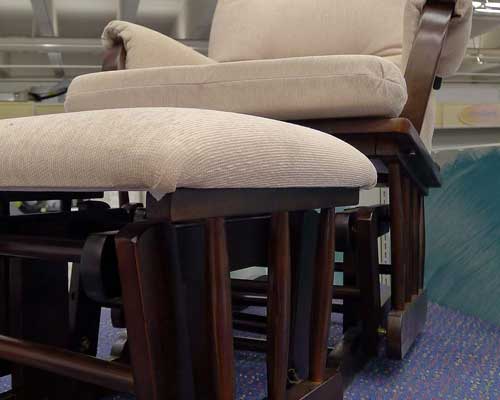 Baby Strollers
Choosing a baby stroller is a big decision as picking one that is best suited for your lifestyle is important. For instance, baby jogger style strollers are better for active parents and some even have larger wheels which can be used for light hiking on dirt trails. Umbrella strollers are lightweight and can be a great secondary stroller for short trips. Snap and Go strollers are more sturdy than umbrella strollers but are still lightweight and easy to maneuver around when running errands. Despite folding up, some strollers can still be a big hassle getting in and out of the car as some weigh over 30 pounds. Some features that are nice on a baby stroller include comfortable grips for your hands, easy to recline position for your baby, cup holders, colorful, storage areas, and cleanable material that can be easily wiped down. Some strollers feature speakers for your portable music player and attached toys like a baby steering wheel. Most importantly, choose a baby stroller that has a good break locking system and a secure five-point harness system.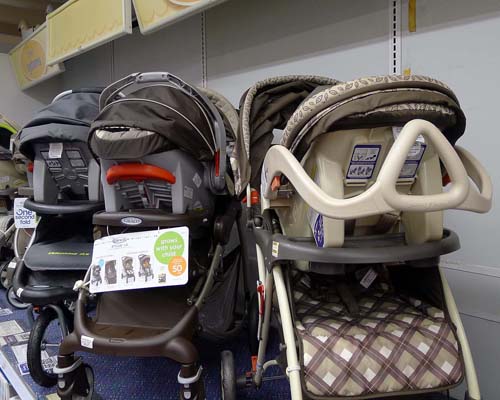 Infant Car Seat
The most important product you will buy before your baby is born is the infant car seat. The hospital will not allow you to leave with your newborn baby unless you have an infant car seat. Infant car seats are used for the baby's first several months before you switch to a convertible car seat when the baby reaches the proper weight and height. A good idea is to buy an infant car seat as part of a stroller combo set. Even if not part of a combo set, some strollers are designed to be able to securely place an infant car seat within the stroller.
Diapers
One of the biggest revolving expense you will have for your baby will be diapers. Infant babies can use up to 20 diapers in a day and even toddlers can use up to ten per day. Selecting diapers from the different manufacturers can be a challenge as price considerations, quality and age appropriateness makes for a rather large diaper aisle in the store. The fact is every baby is unique and one brand of diaper will often outperform another brand of diaper so it is often best to try different diapers to see which is most effective at keeping your baby dry. Diaper sizes adjust as your child grows so make sure he or she is wearing the correct size diaper for his or her age. Like most things, buying a larger box of diapers is cheaper per diaper than buying smaller packages. Look for coupons and special deals offered by baby stores and your local grocery store to take advantage of savings. Pampers, Huggies and store brand diapers are what most parents buy.
A strong diaper bag will be like a second purse for the mom as you will be carrying it with you wherever you go. Choose a diaper bag that you like and keep it well stocked with all the essentials plus a book to read to baby.
Baby Wipes
Along with baby diapers you will need to choose baby wipes. Money spent on baby wipes can add up so again think about buying in bulk and trying out a store brand which maybe just as good as the more expensive national brands. Look for sensitive skin baby wipes as these will likely cause less issues to the baby skin.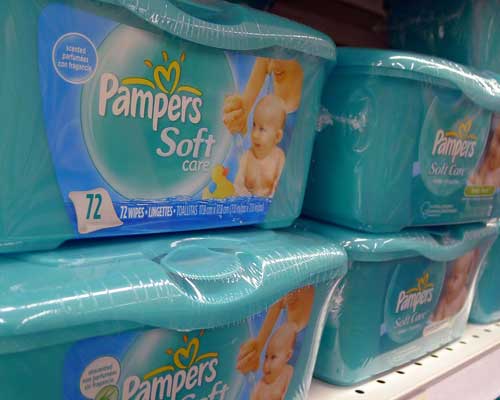 Baby Gates and Safety Products
The number of safety products in the market continues to expand as parents continue to demand a way to protect their children from every foreseeable danger possible. Cabinet locks, outlet covers, appliance locks, furniture straps, and safety gates are just a few of the many types of products you will find on the childproofing checklist.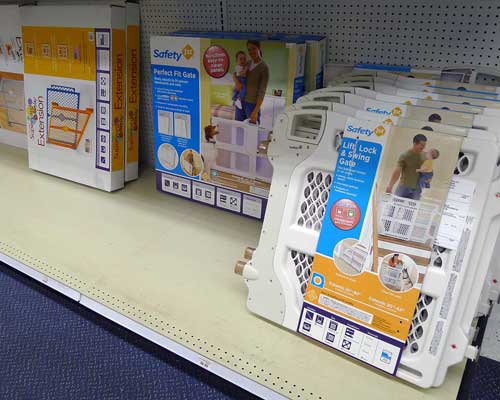 Best Baby Products
New moms are always thinking about having the best baby products but often do not have a great idea which products are the best. Choosing the right baby products is important because a newborn baby has very sensitive skin and adverse reactions to a product can make for a very time consuming, upset baby, expensive situation that may involve a trip to the pediatrician. Look for recommendations by other moms and dads, read reviews left by other purchasers of that product, discuss with your pediatrician, and carefully read the instructions on any product you use on the baby.